Over ons
Zet je wereld in beweging
In 2008 brachten we Agile en Scrum van de IT sector naar de design sector en dat viel op. We schreven er een boek over, Get Agile, en vanaf dat moment verzorgen wij Agile en Scrum trainingen. Wij weten hoe je met behoud van de principes van Agile de meest waardevolle vertaling naar jouw eigen branche maakt. Dat kunnen wij omdat Agile en Scrum in ons bloed zit. Geen opgelegd geleerd trucje maar een vanzelfsprekende denk en doe trend die bij ons van binnenuit komt.
Wij staan nooit stil
Trainers en Agile Coaches van Scrum Academy zijn vakidioten. Wij zetten jouw wereld in beweging met een combinatie van professionaliteit en heel veel actie en plezier. Een goede training, is een training waar we zelf ook deel aan zouden willen nemen. Dus boordevol met pakkende theorie en tjokvol met interactie. Een training waar je blij van wordt en energie van krijgt om direct zelf mee aan de slag te gaan. Geen training van ons is hetzelfde, wij ontwikkelen onze programma's continu door. Dat is namelijk heel erg Agile en dat passen wij ook op onszelf toe.
Samen op de weg naar Agile
Soms is het volgen van een training niet genoeg om de organisatie, afdelingen of teams te transformeren. In dat geval helpen we je in Expeditie Agile om jouw agile reis een succes te maken. In Expeditie Agile krijg je het beste van ons trainingsprogramma, samen met agile coaching helemaal op maakt gemaakt en werk je stap voor stap aan je eigen transitie. Hierbij combineren we ons inhoudelijke expertise van marketing, communicatie, design, digital en operations met onze skills van training en agile coaching. Een traject gericht op inhoud en proces zet jouw wereld nog harder in beweging.
Benieuwd hoe jij kan starten?
Bespreken hoe je je volgende stap kan maken in Agile en Scrum? Bel Gert-Jan (06 11 53 52 07) of laat een berichtje achter.
Kan ik je helpen?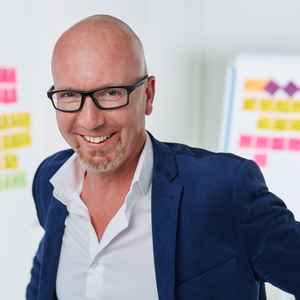 Gert-Jan Danenberg
Managing Director & Agile Coach
+31 (0)85 1302117
gert-jan@scrumacademy.nl
Bezoekadres
Scrum Academy
Pand Noord
Meeuwenlaan 98-100
1021 JL Amsterdam
Deze bedrijven deden mee